Delivery
Due to the recent circumstances, Delivery times are slower then usual.
We can supply your building and gardening supplies to you in the following ways:
BULK BAG
SMALL BAG
PALLET DELIVERY (NATIONWIDE)
LOOSE LOAD
WEIGHBRIDGE COLLECTION
We have been delivering bulk bags to our loyal customer base throughout Cambridgeshire, Bedfordshire, Hertfordshire, Essex and Suffolk for many years and have built up a reputation for the effort and ability of our experienced drivers to place your order where you have requested.
Using our hiab crane lorries for our bulk bag deliveries we have the ability to lift our bags over hedges, walls, fences and other obstacles (up to a height of 3.3 metres or 2.8 metres with our small lorry). Please see 'Our Fleet' page for detailed lorry dimensions.
We are also not restricted by having to place your bag on even ground. Assuming there is access for our lorry to your property and our crane can reach the location you request, we can place your bag onto driveways, gravel areas, paths, lawns, beds and borders.
Please note however that we are restricted by the height and reach limits of our cranes and the proximity of overhead wires and trees. We are precluded from leaving bags on the public highway and will not take our lorries onto brick-weave driveways or lift bags over parked vehicles without the express permission of the customer. Please also note that we do not hand carry bags down side paths or through houses.
If access is tight, our small lorry may be able to do the job! Please see 'Our Fleet' page for our vehicle dimensions.
All of our products are available for delivery using our fleet of hiab crane lorries. Fencing products and paving slabs are either hand-lifted or craned off, whilst all our other products are delivered in bulk cubic metre or half cubic metre bags. Small bag products are placed within a bulk bag for ease of delivery.
We offer free delivery within a 15 mile radius of our operation just outside Cambridge. There is a standard £20 delivery charge applied up to a radius of 24.5 miles, regardless of how many bags you order. If you require a delivery beyond this area, please call us on 01954 212144 for a custom delivery quote, either by our bag lorries or via our nationwide palletised delivery for our specialist products that you are unable to source locally.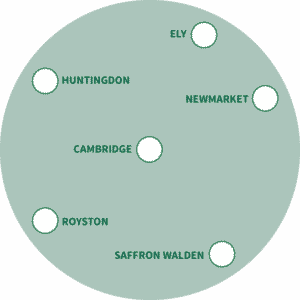 We operate different weekday delivery routes, starting at approx 7.30am and completing our final delivery usually no later than 5.30pm dependent on order demand and driver availability.
Included delivery area:
On Monday and Friday we deliver towards St Ives, St Neots and Huntingdon.
On Tuesday we deliver towards Ely and Newmarket and also into Cambridge.
On Wednesday we deliver towards Haverhill and Saffron Walden and also to Cambourne.
On Thursday we deliver towards Royston and also into Cambridge.
We are able to deliver to Comberton, Coton, Hardwick and Madingley most weekdays.
Daily delivery schedule for the towns and villages that we offer free delivery to:
ABBOTS RIPTON
BLUNTISHAM
BOURN
BOXWORTH END
BROUGHTON
CAMBOURNE
COLNE
COMBERTON
COTON
EARITH
FEN DRAYTON
FENSTANTON
FENTON
GT STUKELEY
HARDWICK
HARTFORD
HEMINGFORD ABBOTS
HEMINGFORD GREY
HOLYWELL
HOUGHTON
HUNTINGDON
KINGS RIPTON
LT RAVELEY
LONGSTANTON
MADINGLEY
NEEDINGWORTH
NORTHSTOWE
OAKINGTON
OLDHURST
OVER
PIDLEY
RAMPTON
SAPLEY
SOMERSHAM
ST IVES
SWAVESEY
WARBOYS
WILLINGHAM
WOODHURST
WYTON
ALDRETH
BARWAY
BOTTISHAM
BURROUGH END
BURROUGH GREEN
BURWELL
CHERRY HINTON
CHITTERING
CHURCH END
CLAYHITHE
COMBERTON
COMMERCIAL END
COTON
COTTENHAM
COVENEY
DENNY END
DULLINGHAM
DULLINGHAM LEY
ELFORD CLOSES
ELY
EXNING
FEN DITTON
GIRTON
GT WILBRAHAM
HADDENHAM
HARDWICK
HISTON
HORNINGSEA
IMPINGTON
LANDBEACH
LT THETFORD
LT WILBRAHAM
LODE
MADINGLEY
MEPAL
MILTON
NEWMARKET
REACH
SIX MILE BOTTOM
SOHAM
STOW CUM QUY
STETCHWORTH
STRETHAM
STUNTNEY
SUTTON
SUTTON GAULT
SWAFFHAM BULBECK
SWAFFHAM PRIOR
TEVERSHAM
UPWARE
WARDY HILL
WATERBEACH
WENTWORTH
WESTLEY WATERLESS
WESTWICK
WICKEN
WILBURTON
WITCHAM
WITCHFORD
AUDLEY END
BABRAHAM
BALSHAM
BARTLOW
BOURN
BRINKLEY
BURTON END
CAMBOURNE
CARDINALS GREEN
CASTLE CAMPS
COMBERTON
COTON
DUXFORD
ELMDON
FULBOURN
GRANTCHESTER
GT ABINGTON
GT CHESTERFORD
GT SHELFORD
HADSTOCK
HARDWICK
HEATHFIELD
HILDERSHAM
HINXTON
HORSEHEATH
ICKLETON
LINTON
LT ABINGTON
LT CHESTERFORD
LT SHELFORD
LT WALDEN
LITTLEBURY
LITTLEBURY GREEN
MADINGLEY
PAMPISFORD
SAFFRON WALDEN
SAWSTON
SHUDY CAMPS
STAPLEFORD
STREETLEY END
STRETHALL
TRUMPINGTON
WENDENS AMBO
WESTON COLVILLE
WESTON GREEN
WEST WICKHAM
WEST WRATTING
WHITTLESFORD
WILLINGHAM GREEN
ABINGTON PIGOTTS
ABBOTSLEY
ARRINGTON
ASHWELL
BARKWAY
BARLEY
BARRINGTON
BASSINGBOURN
BRIDGE GREEN
CHRISHALL
COCKAYNE HATLEY
COMBERTON
COTON
CRAWLEY END
CROYDON
DUDDENHOE END
DUNTON
EAST HATLEY
EVERTON
EYEWORTH
FOWLMERE
FOXTON
GAMLINGAY
GT CHISHILL
GT EVERSDEN
GT GRANSDEN
GUILDEN MORDEN
HARDWICK
HARLTON
HARSTON
HASLINGFIELD
HATLEY ST GEORGE
HAUXTON
HEYDON
KELSHALL
KINGSTON
KNEESWORTH
LANGLEY
LITLINGTON
LT CHISHILL
LT EVERSDEN
LT GRANSDEN
LONGSTOWE
LOWER GREEN
MADINGLEY
MELBOURN
MELDRETH
MILLOW
NEWTON
NORTH BROOK END
NUTHAMPSTEAD
ODSEY
ORWELL
POND STREET
POTTON
REED
REED END
ROYSTON
SHEPRETH
SHINGAY
STEEPLE MORDEN
SUTTON
TADLOW
TETWORTH
THERFIELD
THRIPLOW
UPPER GREEN
WARESLEY
WENDY
WHADDON
WIMPOLE
WRESTLINGWORTH
BAR HILL
BOURN
BOXWORTH
BRAMPTON
BUCKDEN
CAMBOURNE
CAXTON
CHAWSTON
COMBERTON
CONINGTON
COTON
CROXTON
DIDDINGTON
DRY DRAYTON
DULOE
EATON FORD
EATON SOCON
ELSWORTH
ELTISLEY
EYNESBURY
GODMANCHESTER
GRAVELEY
GT PAXTON
HAIL WESTON
HARDWICK
HILTON
KNAPWELL
LT BARFORD
LT PAXTON
LOLWORTH
MADINGLEY
OFFORD CLUNY
OFFORD D'ARCY
PAPWORTH ST AGNES
PAPWORTH EVERARD
SOUTHOE
ST NEOTS
TOSELAND
WYBOSTON
YELLING
Upon receipt of your online order we will contact you by email on the same or next office working day (Mon-Fri 8am-5pm) to confirm the scheduled date for delivery. We will deliver your order on the next scheduled day in your area, unless we are extraordinarily busy or if the scheduled day is the following day and our lorries are already fully loaded. In some circumstances we may be able to deliver to you earlier. Order delivery time can range from a minimum of same day delivery usually to a maximum of 5 working days dependent on demand and product availability.
As our bag delivery schedules are dependent on the orders we receive we are unable to specify timed deliveries although we do our best to accommodate customer delivery requirements wherever possible. We complete our schedules at 4pm for the following weekday. If you call us between 4pm and 5pm the day before your scheduled delivery we will be able to give you an approximate delivery period.
At checkout or when ordering by telephone if you are able to provide us with clear instructions where you would like your bag(s) placed and there are no access issues, this will help our driver to complete your delivery more effectively. Our driver needs to be able to unhook the bag straps from the crane so may require access to your property (through gate, etc) to be able to do this. As long as we have access and clear instructions you do not need to be at home when we deliver. Your invoice and delivery note will be placed through your door unless you request differently.
If you believe you may have an access issue onto your property with our vehicles, please refer to 'Our Fleet' page to check the dimensions of our bag lorries and request our small lorry if you require that to ensure your safe delivery.
We do deliver to allotments, although we will require clear directions and deliver as near to the entrance as possible
If you require a large quantity of material we also deliver many of our more popular products in loose loads up to 30 tonnes. Please check the access to your property or site is not an issue. Please call us on 01954 212144 to discuss your material requirements and to get a quote. Please note that loose load deliveries are not restricted to the same weekday delivery schedules as our bag lorries.