Four Inspirational Garden Ideas for 2015
If you have been inspired by the Royal Horticultural Society's world renowned Chelsea Flower Show, now may be a good time to take a look at your garden and think of creative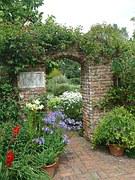 ways to revamp your outdoor space. Whether you have a small back yard, a tiny front garden or extensive grounds, the Chelsea Flower Show is a fantastic source of inspiration on how to transform even the smallest of outdoor spaces into a tranquil haven. In this article, Madingley Mulch, who provide an excellent range of landscaping products in the Cambridge and East Anglian region, reveal four imaginative garden ideas inspired by the show.
Courtyard Gardens
Courtyard gardens have an appeal the world over, and featured in this year's Chelsea Flower Show when Claire Austin won gold for her Modern Iris Garden, which depicted a courtyard design around an olive tree. Courtyard gardens offer a great deal of flexibility and ideas range from creating an outdoor eating area to designing a small, tranquil seating space. Growing climbing plants, or having a few hanging baskets or planters containing vibrant blooms or greenery will add a pop of colour; and a courtyard with a central focal point such as a fountain or sculpture is also popular. To help you design the perfect courtyard garden, Madingley Mulch provide paving in a variety of colours from Indian sandstone to weathered slabs, textured slabs and natural stone paving.
Contemporary Garden
Only your imagination is the limit with a contemporary garden as almost anything goes, from minimalist outdoor spaces, to shaped lawns, pathways, patios, steps and hedgerows, and featuring focal points such as sculptures, fountains and ponds. The trick is to introduce clean lines and bold geometric shapes to make an impact. One of this year's contemporary garden winners was Darren Hawkes with his award winning Brewin Dolphin Garden. It included dramatic handmade monoliths created from thousands of slate tiles. While this may be too time consuming for the amateur gardener to re-create, there are lots of ways to revamp your outdoors such as designing shaped pathways with mulch, bark, slate or decorative stone.
Cottage Gardens
The Cottage Garden is quintessentially English and is thought to have had its origins in the Elizabethan era when gardens were designed to grow herbs or fruits, and had occasional lifestock such as sheep or pigs. Now cottage garden ideas have extended to include benches, hidden pathways, archways, wild flowers, pagodas and occasionally a well, although strictly for ornamental purposes. Last year's big attraction at the Flower Show was The Peter Rabbit Herb Garden which brought Beatrix Potter's books to life. Although creating a similar garden in your own home is clearly an ambitious task, a simple cottage garden with flower beds, wild flower zones, vegetable plots and herb gardens, will provide you with just as much satisfaction. Madingley Mulch sells a wide range of soil, conditioners and compost to help your plants grow including our own special recipes Tony's Tonic and Denise's Delight, which has proved a popular choice with gardeners.
Tranquil Garden
The tranquil garden is becoming increasingly popular and, if inspired by the orient, they often feature ornamental raked gravel, topiary, walkways, a small pond, a Buddha and a seated area for quiet contemplation. At last year's show 'The Telegraph Garden' was a tranquil space created by designers Tommaso del Buono and Paul Gazerwitz. However, instead of a Japanese Zen garden, the garden featured a contemporary Italian design incorporating symmetry for harmony. Within the garden were roof trained lime trees placed the same distance apart, a water wall, perfectly manicured rectangular lawns, clean pathways and immaculately cut hedgerows. Symmetry helps create a peaceful environment and can be achieved even in the smallest of gardens. If rectangular lawns are a feature of your tranquil garden, Madingley Mulch sell high quality turf to help you achieve your dream outdoor space.
Click on the link to see the full range of garden supplies from Madingley Mulch
---
Back to blog