Does Your Garden Need an Overhaul?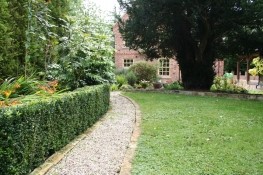 Now is the ideal opportunity to have a rethink about your garden, particularly if it has become overgrown or untidy.
Madingley Mulch, based on the edge of Cambridge, are suppliers of turf and a wide range of products, including paving slabs, decorative stones and mulches, which will help give your garden a new look. Here we have identified some key factors to think about when giving it a complete overhaul.
Starting Afresh
You need to decide what you want to keep and to get rid of. Heavy pruning, which can be done over the autumn and winter months, may give some plants, shrubs and trees a new lease of life, but it may be better to get rid of others completely and start from scratch. Digging out new beds and covering them with mulch will give everything you plant the best chance of flourishing during the growing season.
Smaller gardens, where space is limited, could benefit from items being planted on different levels, whereas wildlife-friendly gardens encourage and require less maintenance. If you have room, a water feature will provide an added point of interest.
Replace Your Grass
If your existing grass is infested with weeds, or just looks old and tired, then laying down new turf, or planting new seeds, may be a better option for freshening up your garden in the spring months. You may also want to create a new lawn in an area which isn't currently laid to grass, and again turf is the ideal way to do this quickly and effectively.
As quality turf suppliers, we supply a high-quality product grown locally in East Anglia. You can either collect it from our Cambridge base or we can deliver it to you. Alternatively, we can supply different types of grass seed. We can advise you on the ideal type of grass even if you are planting a lawn in an area which is shaded or is likely to come in for a lot of footfall.
Put in a Patio
You don't need to replace grass with grass. A patio may be a better alternative or an addition, and it is also a great asset for your garden. It will offer an additional outside dining area for the warmer months, and mean you don't have to worry about so much mowing and maintenance. You can also add planters and garden ornaments to enhance the effect, as well as garden lighting and heating so that you can use it for more of the year.
Madingley Mulch offer a wide range of patio slabs, depending on what type of effect you are looking for. For instance, our Old Grey Courtyard Paving creates a historic, weathered look, while our Premier Riven slabs have a more decorative feel.
Create Some Clear Boundaries
Putting up fencing panels, or low-level picket fences, will help create distinct areas, not just between you and your neighbour but also within your own garden. For instance, you can use a low-level picket fence to mark out a children's play area, or create a themed miniature garden within a garden. If you already have fences, then as part of an overhaul you should repair or replace any rotting panels or posts, and treat them to protect them from the weather.
Pathways can also help add extra definition to your garden, and can also be comparatively low-maintenance. They can be covered with a range of decorative stones, pebbles and cobbles. We also offer pathway chips and a wood-based decorative mulch which is particularly suitable for recreation areas.
A Waste Collection Service
If you find your revamp has left you with a lot of weeds or garden debris you want to get rid of, our waste collection service in the Cambridge area is the answer. We will collect and dispose of the rubbish for you.
Madingley Mulch supply a wide variety of garden products to customers in Cambridgeshire, Hertfordshire, Bedfordshire, Essex and Suffolk. Follow the link above to find out more about our range of stock. If you are giving your whole garden a makeover, our friendly, professional staff will be happy to advise you on your requirements.
We deliver free to all addresses within 15 miles of our base on the outskirts of Cambridge, and there is a fixed £20 charge to all places within 24.5 miles. We can also arrange deliveries to locations further away. Our weekly delivery service goes to towns such as St Ives, Saffron Walden, Royston and St Neots, and villages including Hemingford Abbots, Great Stukeley and Longstanton.
---
Back to blog