Key Advantages of Garden Edging Stones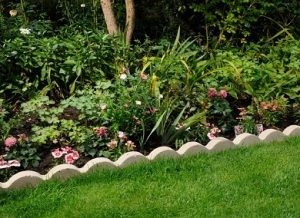 Are you tired of weeds growing into your flower beds? Are you worried you don't have the time to devote to keeping your garden neat and tidy? Edging stones could be the answer – and will be a stylish, inexpensive addition to any garden.
At Madingley Mulch, we are suppliers of decorative garden edging stones to customers in Suffolk, Cambridgeshire, Essex and Hertfordshire. Here we outline their key advantages.
It Cuts Down Your Workload
One of the biggest problems of any garden is that plants grow where you don't want them to. Installing decorative stones well above and below the soil line should stop any weeds, and invasive couch grass, from encroaching into your flower beds.
It also makes other tasks such as mowing and strimming much simpler as you can see clearly where the lawn ends and the flower beds begin – and you don't have to worry about any grass clippings blowing into onto your prized plants.
It Keeps Mulch Within the Plant Beds
As well as keeping weeds out, edging also keeps composts, soil conditioners and mulches in. This means your flowers and plants will enjoy the maximum benefit of products such as Madingley Mulch's Denise's Delight, an exclusive mixture of Black Fen soil, horse manure, wood shavings, humus and other plant nutrients.
We also offer a variety of other soil improvers, including Tony's Tonic, a mix of wood shavings and horse manure, horticultural grit and spent mushroom compost, from our store near Cambridge.
It Protects Driveways and Paths
Driveways and paths also benefit from garden edging, particularly if they contain gravel or stone chippings. Without this barrier, the stones can easily end up inside your home, or encroach onto the lawn, potentially damaging your mower.
Edging can also protect asphalt and concrete driveways from cracking or chipping – and it will show motorists exactly where they can and can't park their vehicles!
It Gives Your Home Kerb Appeal
There are plenty of aesthetic advantages to installing edging as well. It gives your garden a much more clearly-defined, tidy look, showing that you care about it, even if it has reduced your horticultural workload. It's the very definition of 'kerb appeal' – a phrase estate agents use for properties which are much more attractive to would-be buyers.
Edging also helps to separate out different parts of your garden, making it easy to create separate zones such as wildlife-friendly beds and children's areas.
Decorative Garden Edging from Madingley Mulch
Madingley Mulch supply 600mm long decorative stones for garden edging along pathways, drives or garden borders to customers in Suffolk, Cambridgeshire, Essex, Hertfordshire and Bedfordshire. We also supply other attractive products for your garden, such as picket and lap panel fencing and trellises, at highly competitive prices from our shop on the outskirts of Cambridge. Follow the link above to find out more about our products and prices.
We offer a weekly delivery service to many towns and villages in the region, including Newmarket, Saffron Walden, Ely, Royston and Huntingdon. Delivery is free to all addresses inside 15 miles from our base on the edge of Cambridge. For all addresses within 24.5 miles, there is a standard £20 charge, and we can also deliver further afield as well.
---
Back to blog