Seven Ways to Transform Your Garden this Spring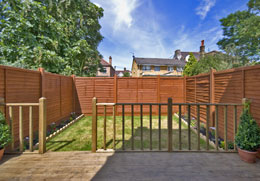 Spring is a time for new beginnings, and what better way to kick-start the season than getting your garden in shape? Gardening reaps a multitude of rewards: it is not only proven to improve health and happiness, but it inspires creativity and gives you the satisfaction of creating your own outdoor haven. In this article, Madingley Mulch, providers of garden supplies in the Cambridgeshire and East Anglia region, gives seven ideas on how to transform your garden this spring.
Replacing Fencing
Spring is the season to get all those tasks done that you have put off during the winter months. One of those jobs that will give your garden an instant makeover is to repair or replace wooden fence panels or posts that have been damaged in bad weather or rotted over time (as no matter how much effort you are prepared to put into your grounds, just one broken fence panel will blight the look of your plot). Not only this, a new fence looks neater, improves security and privacy, keeps pets in (or out), and keeps boundaries neatly defined.
Installing Patios
One way to get your garden in shape this spring is to build a patio; this makes your garden more practical as it creates an instant dining area, which you can use as an extension of the indoors during the summer months. From traditional gardens, to Mediterranean inspired land, or rustic grounds, we have paving slabs to suit. Our high quality patio slabs will instantly transform a space and improve the practicality of your garden. Among the many options are antique style courtyard paving, contemporary slabs, and the increasingly popular Indian sandstone, which is an attractive form of paving that provides a low cost alternative to Yorkshire stone.
Improving Pathways
A pathway adds instant beauty to your garden, and there are a number of options available to make your garden stand out above the rest. Paving stones placed like stepping stones across your lawn is a quick and economical way to make a path. However, more contemporary options are available such as pathway mulches (which are soft to walk on), or decorative stones, which have the added bonus of alerting you to visitors. To give stone pathways a more contemporary look, use pebbles, stones or slate chippings as edging.
Laying Good Quality Turf
Whether you have a new garden or old grass in need of a revamp, laying high quality turf is an instant way to create a new lawn. Although it is more costly than laying a lawn from seed, the benefit is that it produces fast results as you can use you new lawn within 14 to 21 days. This job is best done in early spring or late autumn when your new lawn barely needs mowing. If you are lay turf in the warmer weather, either in late spring or summer, your lawn will need constant watering.
Boosting Your Soil
If you have poor quality soil which is low on nutrients this won't do much for your plants or vegetables. Alternatively, if you are planting new beds you may want to give your plants a great start. We supply bags of soil, including top soil, or soil with conditioners added, to improve plant growth. Perfect for vegetable patches or raised beds, Denise's Delight is unique to Madingley Mulch and consists of a combination of fen soil, horse manure and wood shavings. And, among our variety of soil conditioners and composts is our own brand, Tony's Tonic, for deep soil conditioning.
Using Wooden Sleepers
Wooden sleepers are extremely versatile and can be used in a variety of ways to enhance your garden. Popular uses are to create raised flower beds, herb gardens, fruit or vegetable patches. However, they can also be used to build contemporary wooden pathways, timber flower boxes, or compost heaps. Click here to order railway sleepers or reclaimed sleepers.
Madingley Mulch sell all the garden products listed above, plus associated outdoor and DIY products to keep your outdoor space in tip-top shape. We make the ordering process easy for you as we can deliver straight to your door, and offer free delivery within 15 miles of our depot including in the Ely, Newmarket, Huntingdon, Cambridge, Royston and Saffron Walden areas.
---
Back to blog