Traditional Christmas Plants – and Top Tips on How to Grow Them
One of the integral parts of the forthcoming festive season are plants – indeed, it would be hard to imagine Christmas without the holly and the ivy, the tree and the mistletoe.
Madingley Mulch provide soil conditioners and composts from our base on the outskirts of Cambridge to gardeners across East Anglia. Here, we provide some top tips on growing and looking after your own festive plants.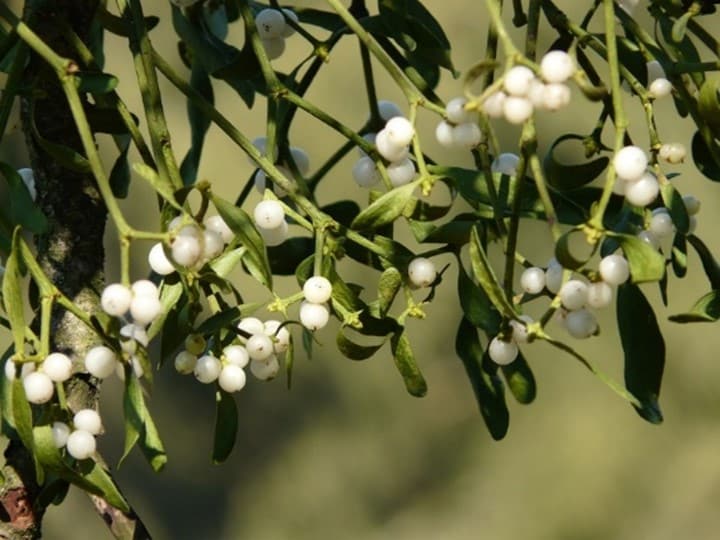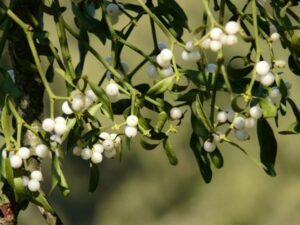 Mistletoe
Although kissing someone under the mistletoe is a Christmas tradition, the reality of the plant is not quite so romantic – it is actually a parasitic plant which sinks its roots into, and gets its nutrition from, a host plant. Apple trees, hawthorns and poplars all make good hosts.
There are male and female mistletoe plants, and only the latter (pictured) carries berries. It can be grown from seed, although you will need to harvest the berries in March or April. To have the best chance of success, pick the berries from a tree which is the same species as your own intended host.
Insert the berries in any small crevice or gap which is fairly high up the tree, then provide some protective covering to prevent the birds eating them. Don't be tempted to try and use berries which have been hanging in the house over Christmas as these have probably dried out. And remember, growing mistletoe is a long-term project – plants can take five or more years to reach berrying size, warns the Royal Horticultural Society.
Holly
This is another item which is essential to a traditional Christmas, with many people hanging holly wreaths on their front door; and, along with ivy, it has a carol named after it.
Holly has male and female flowers, and you'll need both to produce a bush with berries. They need a moist soil with plenty of organic matter, and they grow in either full sun or part shade. They can be planted at most times of the year (ideally not in summer) in flower beds, patios or large pots.
Make sure you give them plenty of space; the initial hole should be 2ft wide and 1ft deep. Water it well in the early stages; after that it should only need watering in prolonged dry spells.
Ivy
Ivy will grow virtually anywhere, in sun or shade, so long as the soil isn't too moist or acidic. Plant it in a pot or hole which is the same depth as the ivy's rootball. Like holly, it should be well watered in the early stages of its growth, then it can be left to its own devices.
Ivy is mildly poisonous, although it is unlikely to cause any serious health problems if you eat it. However it can also be a skin irritant, so wear gloves when you are handling it.
Christmas Trees
Christmas isn't complete without a real tree. At Madingley Mulch, we will be offering Christmas trees for sale as usual from our Cambridgeshire base. The Nordmann Fir and the Norwegian Spruce will be the two species we are stocking from Friday, November 25.
The former has non-drop needles, which is more convenient when it comes to cleaning up after the festive season; the latter does shed needles, but it does have more of a Christmas tree 'smell'. Keep them away from direct sources of heat and ensure they are well topped up with water. Call us on 01954 212144 to order yours today.
Christmas Cactus
For something a bit different, why not try growing a Christmas cactus? These flower from November to January, hence the name; they come in a variety of shades so they will be perfect for adding some winter colour to your home.
These species of cacti need moisture and well-draining soil – they are native to South American rainforests – and don't have any thorns or prickles. They can be grown outside (for example in a pot on the patio) but should be brought indoors when the weather turns cold.
Christmas cacti need a well-drained compost – we stock plenty of soil conditioners and improvers from our base near Cambridge, including Tony's Tonic and Denise's Delight, both of which are exclusive to Madingley Mulch.
Soil Conditioners in Cambridge – Supplied by Madingley Mulch
For full details of all the products which are available in our online shop, follow this link. If you need any help, pop into our HQ on the outskirts of Cambridge and we will be happy to pass on our expertise.
We also offer free delivery, so If you want to place a large order and don't live close by, don't worry. Our regular weekly delivery service goes to St Neots, St Ives, Huntingdon, Saffron Walden and Newmarket and even further afield. For more details on this, click here.
---
Back to blog