Which Garden Design is Best – Straight or Curved?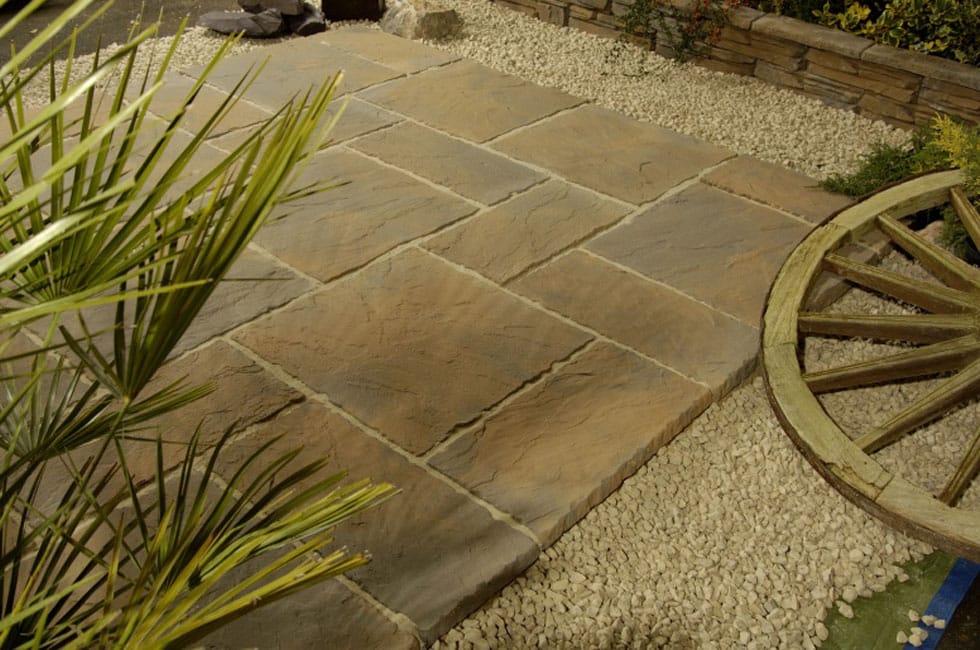 The average UK garden is 188 square metres in size, according to the website Garden Patch. While the actual size may vary depending on where you live, the likelihood is that it will be either square or rectangular. However, do you need to stick to such a regimented shape when it comes to your garden design?
Madingley Mulch provide paving slabs to customers in Bedfordshire, Hertfordshire, Essex and our home county of Cambridgeshire. Here we look at the advantages offered by both straight lines and curves (particularly when it comes to patios), and how we can help with your garden landscaping needs, whatever design you end up choosing.
Championing Curves
One way of making sure you don't end up with too regimented a shape is to ensure curves are an integral feature of the garden. This is because they can create an illusion of space, making the garden appear bigger than it really is and also less exposed. Curves also add an air of mystery to a garden, such as a winding path around a corner that poses the question – where does it go?
How to Achieve It
If you are digging out a bed, border or patio, use a piece of hose laid in the desired shape as a guide before getting the spade out.
In planting terms, avoid shrubs that are likely to grow more vigorously outwards, as these could lose the definition achieved, and make a small space feel even smaller. Also, landscape designers tend to add kidney or teardrop shapes to lawns to break up the natural block effect if they are left completely square. Edging stones will help add greater definition between paved and planted areas too.
It Can Still be Hip to be Square
Using straight lines can still be the simplest and most cost-effective way of gardening. This is because you can stick to the natural contours and shapes of your garden, saving the need to spend so long digging things out. It will also give you a classic design that is both contemporary and timeless. And remember, you can add extra interest by making your garden tiered or split-level, or by using raised beds.
How to Keep Everything Straightforward
If you are digging out a lawn or flower bed, use string or twine stretched between two points to ensure you keep to a straight line. The same applies to patios, although you don't need to have one mass block of slabs. You can leave spaces for pots and planters; and our Indian sandstone paving slabs, which we supply to customers in Suffolk, Essex, Herts, Bedfordshire and Cambridgeshire, also come in a choice of four different colours.
You can also create separate zones, such as a children's play area, or an area where the garden can grow wild. You can garden upwards as well with the help of trailing plants that grow up or through trellises and fences.
It Needn't Be One of the Other
You can also mix the two styles, for instance, square and round beds provide an interesting contrast. The formality of square or rectangular beds can be offset by putting soft, billowing plants such as ornamental grasses in them. Additionally, you shouldn't overdo the curves either, as adding lots of small curves to a border or bed can ruin the overall effect and be more time-consuming to dig out. Ideally, you need a smooth, uninterrupted curve.
Paving Slabs in Bedfordshire with Madingley Mulch
Regardless of whether you opt for a curved or square garden design, at Madingley Mulch, we will be happy to help you. You can call us on 01954 212144 or pop into our store on the edge of Cambridge to ask for advice and buy the supplies you need.
If you have a big order for paving slabs, either for a pathway or patio, we can deliver them straight to your door (minimum order £50). We have also introduced a new sliding scale for delivery charges. It's £2 if the delivery address is up to five miles away from our base, up to £16 if the address is 30-40 miles away. We can also deliver further afield as well. For more information on our delivery charges, follow this link.
---
Back to blog