Clear Your Garden Shed in 5 Easy Steps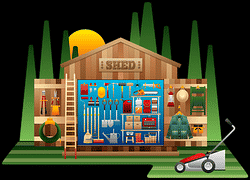 Is the inside of your shed so cluttered you can hardly get through the door? A shed that is in need of a clear-out is not only time-consuming, but costly too. For instance, have you ever spent hours searching for tools or items of equipment that you later found concealed under a mountain of soil bags and broken garden furniture? Did you end up abandoning your search and buying new tools instead?
If this is you and your outdoor storage space is in need of some TLC – don't worry, we have the solution! Here are five easy ways to organise your shed from Madingley Mulch, who provide outdoor supplies and bark for gardens in Essex, Suffolk and Cambridgeshire.
Get Rid of Clutter
October is the ideal month to start a good clear-out, as it is generally a quiet time for gardeners. If you find yourself with a spare, dry weekend, why not use it to sort through your shed and get rid of anything you don't need? Chuck away tools that can't be mended, seed packets that are several years old and opened, and anything you know you won't use again. You could either donate old garden furniture and tools to friends, family or your local charity shop, or sell them on if they are in good condition.
Mend Tools
As you sort through your shed, you might find broken tools and equipment that are easily fixable. Mending these items will save on the cost of buying new. There are a host of businesses that service and repair lawn mowers and strimmers and sharpen shears. However, if your equipment looks tired and you would rather buy new, at Madingley Mulch we sell a range of high quality Spear & Jackson garden tools. Just click on the link to buy.
Sweep the Cobwebs
Before you start putting the items you want to keep back in your shed, it's a good idea to give your building a good sweep, so it gets a thorough clear-out. After all, you never know what you might find at the bottom of your shed. You might come across nuts, bolts and screws hidden beneath the cobwebs that could come in handy later. Or, if you are looking for an old tool part, it could well be lurking in a neglected corner.
Install Hooks
Once your shed is clean and clear inside, you might want to think about hanging hooks up. This will keep some of your tools off the floor, so you can safely get in and out of the building. To save on space, hang two rungs of hooks near the door for easy access. The higher of the two can be used for small tools, such as trowels, and the lower rung for spades, hoes, rakes and forks…not forgetting a waterproof hat and jacket for rainy days.
Put up Shelving
Another simple way to re-organise your shed is to put up shelves. How much shelving you need will depend on how large your garden is and what you intend to use your shed for. There are all sorts of shelf tidies you can buy, including compartmentalised boxes for nuts, bolts and screws, and large plastic boxes for bigger items such as grass seed boxes, weed killer and weed membranes. Don't forget to label each of your boxes with what is inside, as this will be a useful time saver.
Cambridgeshire based Madingley Mulch sell outdoor supplies such as fencing, turf, log rolls, soils, soil conditioners, compost, aggregates, paving and bags of bark in East Anglian region, including Essex. Just on the link above to find out more about our products.
---
Back to blog