5 Top Tips for Looking After Your Garden Fence Panels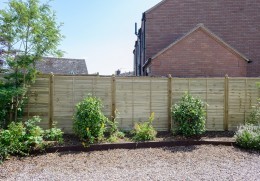 A new or well-maintained fence will give any garden a lift. It improves your security and privacy, creates well-defined areas and can effectively be used as an extra area for flowers – particularly if you let climbers like honeysuckle, clematis or wisteria grow up it.
Madingley Mulch supply quality garden fence panels in the Cambridge area. Here are our top five tips for making sure your fencing stays in pristine condition throughout the year.
When Should You Put Them Up?
If you want to put some new panels up, or replace some existing ones, early spring or late autumn is the ideal time to do this. This will give any plants growing nearby, and whose roots might be affected by the work, plenty of time to recover ahead of summer and their peak growing season.
Use a digging spade or post hole digger to excavate the earth, and make sure the holes are at least 2ft deep. It's always better to have too many posts than too few, so make sure that they are never more than 8ft apart.
Preserve Your Panels…
Summer is the best time to give your fencing panels a fresh coat of varnish or woodstain preservative. Make sure the forecast is for dry weather before you get the brushes out. Ideally the temperature should be above 5C before you start painting, but not too hot, as the preservative will dry out too quickly before the wood has time to absorb it.
Again, think about any plants growing nearby – you may need to consider covering them up to protect them from being splattered by any stray drops of varnish.
…and Wash Them Down
Fungi and fence panels don't mix, so make sure you keep this natural enemy at bay. Mildew and moss are among the commonest types of problem, as they look unsightly and can weaken the structural integrity of your panels and posts.
These unwanted invaders can be deterred by scrubbing down the affected areas with a stiff brush dipped in a mixture of water and vinegar, or soapy water. Power washing may be necessary if the fungus has become particularly well established.
Watch the Weather
The weather is another natural enemy, so make sure your fence panels are structurally sound before autumn and winter set in. High winds can easily blow the panels over, particularly if the posts are not secure, while frost, ice and snow will expose the wooden panels to more moisture.
You can minimise this risk by making sure any nearby trees or shrubs are properly pruned. This will mean there won't be any overhanging branches which drop leaves or snow onto the panels.
Hammer in Any Loose Nails and Screws
You should always make sure that any loose nails or screws are hammered in. Unless you have been using a galvanised variety, they will rust, staining the wood. Spending a few minutes checking these over will help keep your fence looking good and reduce the risk of hurting yourself on snags or splinters.
Quality Garden Fence Panels from Madingley Mulch
At Madingley Mulch, we supply a wide range of quality wooden garden fence panels from our shop near Cambridge. These include Professional and Ultimate Lap Panels, picket fencing and trellises. Our sturdy fence posts and gravel boards offer plenty of protection against rotting, and we also stock a cement and sand mix which will ensure your posts are secure in the ground. Follow the link above to see our full range.
We can sort out your fence panel delivery too, whether you live in Cambridge, Huntingdon, Saffron Walden, Haverhill, or any of other towns and villages in the region. This service is free to all addresses within 15 miles of our base, and we charge a standard fee of £20 for all orders within 24.5 miles. We can also deliver to places further away as well.
---
Back to blog