Great Patio Garden Ideas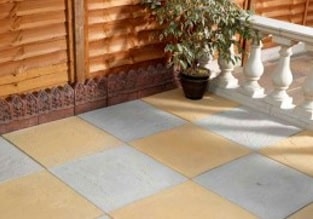 Patios can be traced back to Roman times, when only the wealthiest families could afford them. Today, however, they are an essential feature in any usable and functional garden space and can be put to a variety of different uses.
As specialist suppliers of paving slabs to customers in Bedfordshire, Cambridgeshire, Suffolk and Essex, Madingley Mulch takes a keen interest in all aspects of garden design and provides the highest-quality materials. Here we look at the main styles and uses of patios today.
Dining Alfresco
One of the most popular uses for a patio is for outdoor dining during the summer months or when entertaining guests. A patio doesn't have to be reserved for barbecues, but should also be used for more sophisticated meals, at any time of the day. If it's warm enough, you should get out there and use it!
Make sure you have durable garden furniture on your patio that can cope with the range of elements the British weather provides. Lighter plastic tables and chairs have been known to end up several gardens away after a strong gale.
If you are going to be using your patio simply for relaxing, then you should consider some comfier outdoor furniture instead of, or as well as, outdoor tables and chairs. These could include large weather-resistant beanbags, plastic sofas and armchairs or a wicker lounge set.
An awning is also a good idea, whether it is fixed to your property and extends over the patio or is freestanding. Awnings provide essential shade from the sun, as well as shelter if it begins to rain mid-barbecue.
If you are worried about a drop in temperature affecting your outdoor dining experience, particularly in the evening, you can use outdoor patio heaters, chimineas, fire pits and solar lighting.
Planting Out the Pots
Patios are an extension of your house and look great if you invest in a few plants to place around your patio. Reclaimed porcelain butler sinks, antique pots or old chimneys all look great with an attractive, colourful plant in.
You don't need to be an avid gardener to keep a pot plant alive. There are hundreds of low-maintenance plants to choose from that require very little attention to stay looking great. With a little research, you can have flowers and plants blooming on your patio all year round.
Soaking up the Sun – or the Shade
What plants you get for your patio will depend on whether your patio is north- or south-facing. South-facing gardens will receive more sun, whereas north-facing gardens receive more shade.
If you're going to be spending a lot of time in your garden or on your patio, for health reasons, it may be a good idea to limit the amount of direct sunlight you get. Trellises, pergolas, panels and awnings can all help to provide you with the correct amount of shade you require. Training climbing plants like honeysuckle, jasmine or bluebell creepers across a trellis will catch the sun they need to grow while providing shade to you at the same time. They can also increase your privacy from any other properties that may be overlooking your garden.
Courtyard Gardens
These are primarily patios that are used as full garden spaces but are enclosed on three sides, with the fourth leading back into the house. If there aren't enclosed walls, then you can effectively add them with fencing panels, trellises and climbing shrubs and plants to create a sense of enclosure.
Don't overfill a courtyard patio with plants, as it will appear too crowded and may look as if the plants are just being stored there. Be strategic in where you place your plants and make sure they always receive enough direct sunlight. If shade cannot be avoided, try growing evergreen plants, such as hostas, daphnes or aucuba.
Madingley Mulch – Helping You Create a Perfect Patio
Whether you already have one or not, Madingley Mulch provides everything you need to create a beautiful patio. We stock a huge range of different paving materials for different uses and applications.
Our textured paving or our Riven slabs are excellent all-round surfaces which work well if your patio is going to be an outdoor dining area as well as an area to relax in; Indian Sandstone slabs are relatively slip-resistant, so young children playing outside are unlikely to hurt themselves; our Old Grey courtyard paving and Rutland Oakham works best if you are creating a courtyard garden.
We can advise on the best materials for the best application, from creating patios, paths and paved steps in a variety of different styles and colours. We can also provide an entire range of gardening products to get your patio looking beautiful.
If you would like to know more about the types of paving slab Madingley Mulch offer, click here. Our friendly, experienced staff will be happy to advise you on which type of paving slab will be best for your garden.
If it is difficult for you to transport our paving slabs to your home, we offer a regular delivery service to towns and villages in the region, including St Ives, St Neots, Huntingdon, Cambourne and Saffron Walden. Orders are delivered free to all addresses under 15 miles of our base on the edge of Cambridge, while a standard £20 charge applies to all deliveries within 24.5 miles. We can also deliver to addresses further afield.
---
Back to blog