The Advantages of Porcelain Paving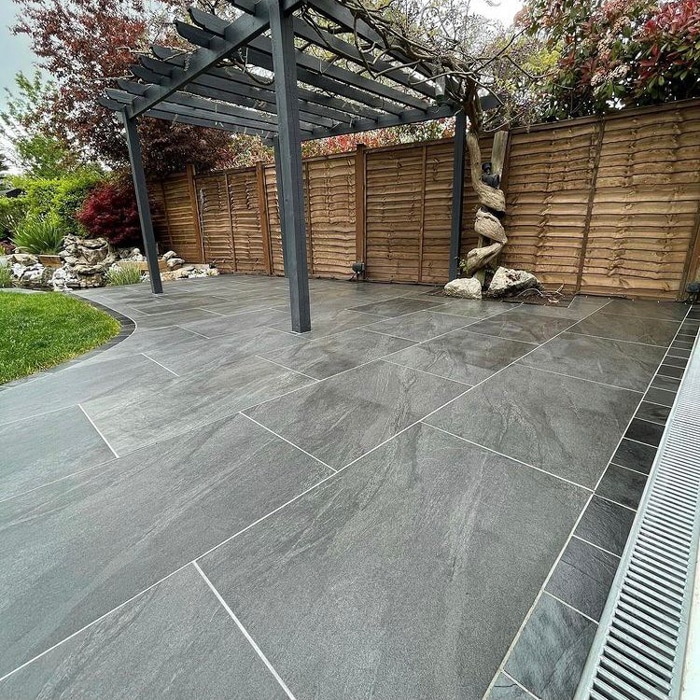 Madingley Mulch is now stocking porcelain paving at its Cambridgeshire base, both in-store and online. Here we look at how this product is made, the advantages it offers, and how we can meet all your needs if you want to give your garden pathways and patios a new look.
How is Porcelain Paving Made?
Porcelain paving is made by baking clay, sand and other minerals; usually these include feldspar, a granite-like material. All of them are mixed in specific quantities with cold water into a slurry. This is then dried, stored and pressed or compacted together before being 'baked' in a high-temperature kiln (it can be as hot as 1,200 degrees Celsius). The porcelain is then allowed to cool, cut into a size, and given a protective coating before going on sale.
So what advantages do porcelain paving slabs have?
They are Very Hard-Wearing
Porcelain paving slabs won't discolour, and they are highly resistant to scuffs and scratches. They also are far less porous than many other materials, which means water won't build up inside the tiles, meaning that frost won't be a problem either. (Porcelain paving slabs can't be described as completely waterproof, but they are highly water-resistant).
This means they will retain their original finish for a long period of time – even in areas with a high footfall, such as garden paths.
They are Very Low-Maintenance
Because of its high levels of water resistance, porcelain paving won't need much ongoing care. As well as avoiding the problem of frost, you won't get any moss, algae or unwanted plants taking hold in the slabs. This will cut down on the amount of cleaning and power-spraying they will require in the years ahead.
They Can be Highly Slip-Resistant
You are also less likely to slip, trip or fall on a porcelain tile if it's been raining. This is partly because algae is less likely to grow on them, and partly because it's very easy to apply a slip-resistant finish to them.
This is particularly useful even if you are using them as part of a covered patio. Ice, snow and rain won't be a problem, but if you are using the patio as an extended outdoor dining area someone, at some stage, is bound to spill a drink – no matter how many precautions you take. The increased slip-resistance is also useful if you are using the tiles to surround a swimming pool; you don't want to trip and fall into the water.
They are Perfectly Symmetrical
Because they are produced in a factory, to a set specification, every tile should be the same when it comes to colour, quality, size and texture. This will help give your garden a more orderly appearance and a more formal look. It could also provide a stylish extension from your kitchen area into your outdoor space.
Porcelain Paving in Cambridgeshire from Madingley Mulch
At Madingley Mulch, we are now stocking the Avant Garde collection of porcelain paving. This comes in a wide variety of shades and designs – namely Cathedral Anthracite, Himalayan White, Kandla Porcelain, Mercury Grey, and Quartz Light Grey and White. All of them are perfect for patios, pathways, pool areas and terraces.
They come in 21.60m2 packs, although individually packed tiles can be collected from our base on the outskirts of Cambridge. For more information about the whole collection, follow this link.
If you prefer to stock more traditional textured or natural paving, then we are still stocking plenty of varieties – including Old Grey Courtyard Paving, Indian Sandstone and Rutland Oakham slabs. For more details click here.
Given the weight of the paving – whichever type you order – you may like to take advantage of our delivery service – we can deliver all our building and outdoor gardening supplies in Cambridge, across East Anglia and further afield. We are now operating these on a sliding scale – so the closer you are to us, the cheaper it will be. For more details, check out our delivery page here. You can also call us on 01954 212144 if you have any questions.
---
Back to blog