Top Tips for Designing a Contemporary Patio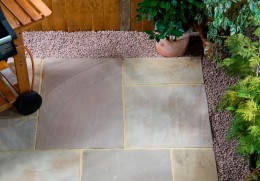 Say 'patio' and the likelihood is that most people will think of a simple square or rectangle of paving stones. But today's contemporary patios can be made into all sorts of unusual and eye-catching shapes, as we look for more from our gardens and turn them into an extension of our homes' interior space.
Leading garden supplies company Madingley Mulch, based in Cambridge, can supply exciting ranges of paving slabs with varied colours and textures to help give your garden a more modern feel. Here are our top tips for designing and installing a contemporary patio.
Modern Patio Shapes and Designs
Rectangles or squares are the traditional shapes, partly because they make such an efficient use of space and can be easier to look after. However, many gardens are irregularly shaped, so your patio can be too. You could consider a rounded patio or a paving circle for a more contemporary feel, although if you do go for a conventional shape your patio can still have a modern flavour. Some people treat their patio as an 'outdoor room' and they may even add a kitchen area, not just a barbecue, as an additional point of interest.
If you do want to use your patio for entertaining, then you need it to be big enough to accommodate garden furniture, which increasingly can include sofas and recliners as well as, or instead of, standard chairs and tables. But if your patio is too big it could dominate the whole garden. In many cases, the smaller size of modern gardens means a patio will need to be small too, but choosing an unusual shape or design can often ensure that the maximum use is made of the space available.
Enclosing the patio with a low wall or putting it on a different level from other areas of the garden, with steps, can help to add interest. However, if you think guests may have to spill over into adjoining areas of the garden, this may not be practical.
Contemporary Colours and Themes for Your Patio
Most patios are generally laid with paving slabs, which are the most practical surface and come in a range of materials, including some colourful modern options. Patio slabs can be made from concrete, granite and slate, which all have a great texture and are ideal for modern styling. Natural stones such as limestone, travertine and Indian sandstone vary in shade and finish and can again add contemporary texture to your patio.
The range of paving stones we offer at Madingley Mulch include striking Indian sandstone in a Calibrated Sandstone and Limestone Patio Pack. Each pack contains 48 slabs and the stones are available in a range of colours. Our Premier Riven slabs also have a contemporary feel, particularly if you choose to mix and match the four available colours of dark grey, natural, stone and red, within the patio. Repeated patterns within the paving can give a quirky individual touch. Curves are also very contemporary, and our Rutland Oakham slabs are available in a circular design, with corner kits offering even more options.
You may want to create a patio on a particular theme and choose furniture and accessories to emphasise this. Vibrant beach themes or calming natural and rustic shades are among popular current looks for patios. Bright colours are also very much in vogue, while unusual materials can range from terracotta planters right through to high-tech water features crafted from metal.
Don't worry if our patio slabs are too big or heavy to fit in your car as we can deliver them to your door. We offer free delivery to all addresses within 15 miles of our base on the edge of Cambridge, and a standard £20 charge applies to all deliveries within 24.5 miles. We operate a regular delivery service to many towns and villages, including Cambridge itself, Cambourne, Comberton and Coton.
Accessories and Extras
You will need to work out how to integrate your patio with the rest of the garden, which means a careful choice of edging. Madingley Mulch's Scallop Topped edging offers a modern, clean-lined space. If the patio is a distance from the rest of the house, you could consider linking it to the main area with separate stepping stones.
The design doesn't just stop with laying the slabs; you can add all sorts of modern, unusual touches to your patio. You could add some unusual plants, either built into the patio itself or grown in separate pots or planters and you could also choose solar lamps to show the patio off in the best possible light.
The furniture can be modern too, although it needs to be sturdy enough to stop it being blown away by sudden gusts of high wind. A freewheeling coffee table and settees are among popular options which are both secure and easy to move when you need to put them away. The sofa covers and cushions also offer additional opportunities to create that contemporary look.
You can also add patio heaters and even fire pits, which make it possible to use the patio for more of the year, although you will need to consider where to put them during bad weather.
Gardening and landscape specialists Madingley Mulch are based in Cambridge but also serve customers across Essex, Suffolk, Hertfordshire and Bedfordshire. If you would like to know more about our range of garden patio slabs, click on the link. We can also give you friendly advice on what type of slabs are most suitable for your garden and deliver them together with all the other garden supplies needed to complete your patio, including membranes, sand and cement.
---
Back to blog