Ways to Make Your Garden Secure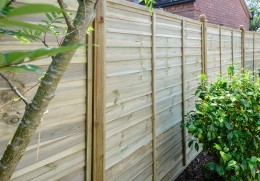 Now the clocks have gone back, many people's thoughts turn towards garden security, as the additional hours of darkness can be tempting to burglars. An unprotected garden can lead to the loss of valuable plants and equipment and many thieves use it to gain access to your home.
If you are looking to improve your garden security, as fence suppliers based in Cambridge we can advise you on the best products to install and give you extra peace of mind over the winter months. Here are our five top tips for making sure your garden is secure.
Fences and Gates
Having a solid fence installed should deter unwanted visitors, particularly if it is high enough. Adding a trellis at the top will provide additional height and security, particularly if you let a prickly climbing plant grow through it. You should always make sure that your fencing panels are kept in a good state of repair, and replace them if necessary.
Garden gates fitted with locks can be an important deterrent. Fit two padlocks or catches where possible, and keep them locked whenever they are not in use.
At Madingley Mulch, we supply fence panels and posts, including picket panels, to customers in areas including Cambridge, Essex, Suffolk, Bedfordshire and Hertfordshire. Our heavy-duty trellises can be used on their own as well as on top of fences, and will support a wide range of climbing plants.
Plant a Hedge
Hedges look attractive in their own right as well as discouraging unwanted visitors. You can plant conifers side by side, and they should grow thickly enough to make it difficult for people to get through. Medium-sized hedges like hawthorn, holly and firethorn are particularly good for security because they are so prickly. Lower-growing thorny shrubs can be planted under drainpipes and at the base of fences to discourage people from climbing up them.
You can also use mulch to give your new hedge the best chance of flourishing, as it will help retain moisture in the soil. Don't let it come into direct contact with the plant, as this could damage it. Madingley Mulch can exclusively supply Denise's Delight, a mix of Black Fen soil, horse manure, wood shavings and plant nutrients, which gives the benefits of both soil and compost.
Lights Work
Light is a proven deterrent against thieves and burglars. However, you need to ensure that any additional light does not shine in areas which could annoy neighbours or distract road users. Solar-powered lamps are cheap, low-intensity and ideal for use in the garden. Timers and motion sensors can ensure your lighting only comes on when you need it to, as well as keeping the cost down.
For additional protection, you could consider installing alarms. There are a number of systems which work by detecting movement in the garden. Ideally any alarm should cover your sheds and outbuildings.
Lock It or Lose It
Garden furniture should be stored away whenever it is not in use. You should also make sure that your shed or garage is securely locked. It may also be worth having a separate padlocked box or safe inside the shed, for the more valuable items. Larger individual plants and statues can be cemented in place or secured with a form of anchor such as a bolt fixed to a wall or the ground. You can also mark items with a UV pen with your postcode.
Our store has a large ironmongery section which stocks a range of hinges and bolts, plus night latches and Yale locks. We can also supply heavy duty waterproof padlocks for garden sheds and garages.
Drives and Pathways
It can also be worth investing in a gravel path or driveway to improve security. A gravel surface looks good, and it is also noisy underfoot, so you get plenty of warning if someone is coming.
We can supply a range of decorative stone chippings, including 10mm blue stone, 20mm charcoal stone, and various forms of granite. All our range is low-maintenance and, as well as contributing to security, will also help improve your garden's drainage and act as a deterrent to weeds.
At Madingley Mulch, we supply a wide range of garden security items from our base on the edge of Cambridge. Follow the link to find out more about our range of products.
We also offer a regular delivery service for orders for Newmarket, Huntingdon, Ely and Haverhill, and many villages, including Houghton, Swavesey and Cambourne. This service is free to addresses within 15 miles of our shop, and there is a fixed £20 charge for everywhere within a 24.5-mile radius. Deliveries can also be arranged further afield.
---
Back to blog