Why Should You Install Garden Edging Stones?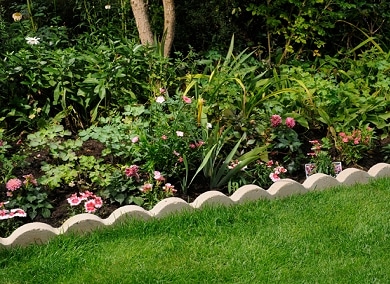 If you want to give your garden a real edge – literally as well as metaphorically – then you should install some special stones that will help define your garden in more ways than one. Here Madingley Mulch, who provide edging stones from their base just outside Cambridge, provide four advantages of using them for gardeners.
They Keep Unwanted Weeds (and Human Visitors) Away
Good quality edging stones will stop invasive grasses and weeds from growing into your flower beds. This means the plants you want to encourage will get all the nutrition they need from the soil without having to compete with other plants for it. They don't have to just be used on flower beds either – vegetable patches can be protected in a similar way.
Edging stones have the added benefit of deterring animals (particularly burrowing creatures) from damaging your beds. Clearly-defined edging can also define walkways and pathways, meaning people are more likely to go only into areas of your garden where you want them to.
They Keep Soil Improvers (and Stones) In
Edging stones don't just keep unwanted invaders out, they ensure that soil treatments don't spill out into other areas as well. For instance, bark chip mulch, when it is laid down, can easily spill over onto lawns and paths if it's been particularly wet or windy.
It's also much easier to water, and spread fertiliser, in areas with edging as it's much easier to see what you are doing and where it is going. And, if you have gravel in your driveway or flower beds, lining either of them with edging stones will ensure small pebbles don't end up either on the grass or inside your home.
For The Aesthetics
Edging stones also help with the overall appearance of your garden, providing clearly defined areas and a much 'cleaner' look. It doesn't have to be put down in straight lines either; a gentle sweeping curve can be just as effective. In the case of patios, edging stones can emphasize the lines of the flower beds and lead the eye to the next focal point in the garden.
If edging is laid, particularly in your front garden, it can boost the value of your property should you ever decide to put it on the market – what estate agents call 'kerb appeal' which will help your property stand out from your neighbours'. Our decorative garden edging is available for customers in Bedfordshire, Hertfordshire and Essex, as well as our home county of Cambridgeshire.
They Help with Garden Maintenance
Having clearly defined edges should make some of the more mundane gardening tasks easier too. For example, mowing grass is a much simpler matter if it isn't growing all over the place. The edging stones also provide a natural barrier so you can't physically mow your plants either. Weeding is also much less of a problem if the unwanted plants can be confined to certain areas.
Edging Stones in Cambridge from Madingley Mulch
We supply 600mm long decorative stones for garden edging along pathways, drives or garden borders to customers in Suffolk, Cambridgeshire, Essex, Hertfordshire and Bedfordshire. We also supply other decorative stones and paving slabs so all of your hardscaping needs can be met at Madingley Mulch.
If you have a large order, then we offer a weekly delivery service to many towns and villages in the region. Delivery is now charged on a sliding scale to take into account the distance travelled. For full details, follow this link.
If you have any questions, you can always call us directly on 01954 212144.
---
Back to blog